Shinyribs to bring swamp-funk to Bayou Theater, believes all dancing is good dancing
October 8, 2018 | Katherine Adams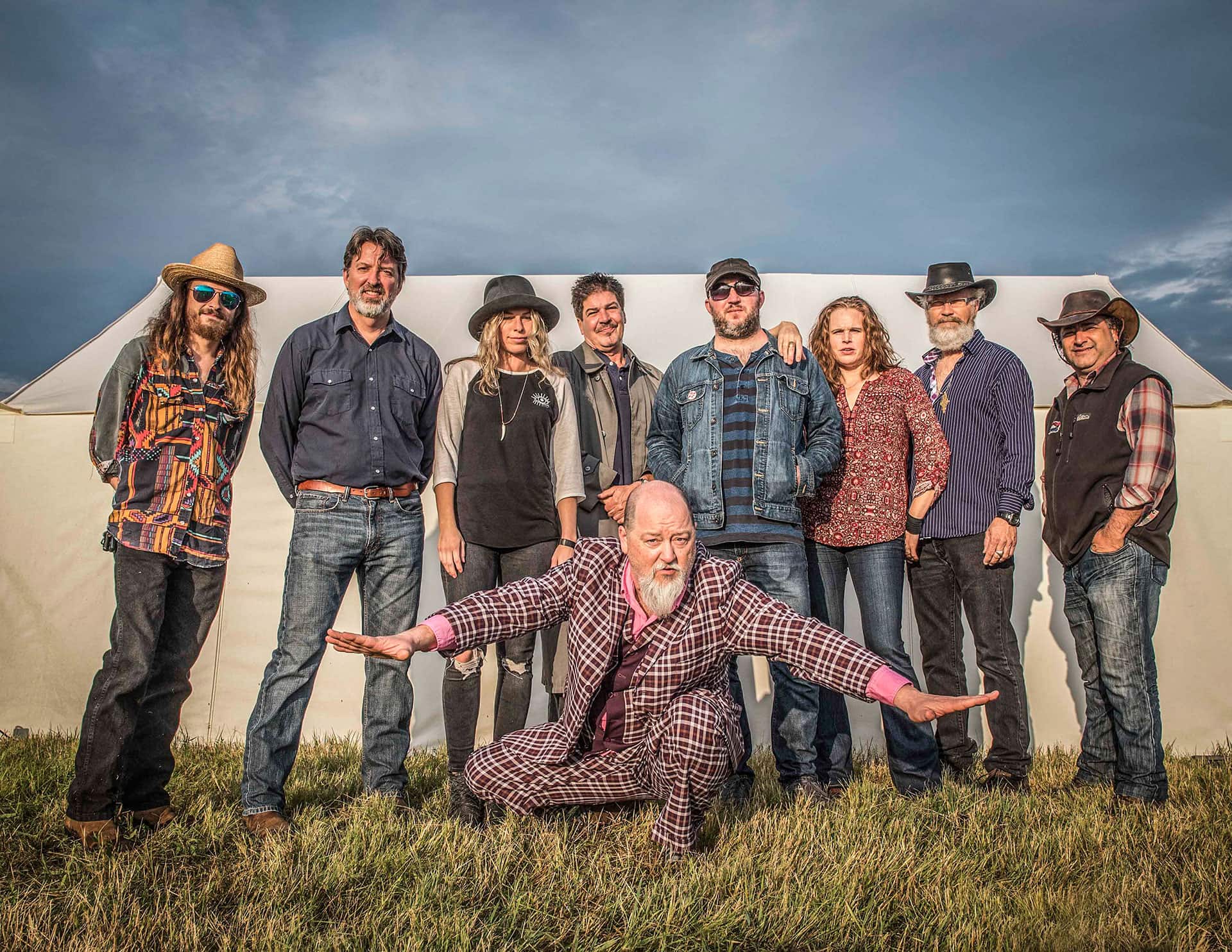 Kevin Russell describes himself as a guy who only stops laughing long enough to sing and dance. As the frontman of Shinyribs, an eight-piece swamp-funk-soul band that is a fixture of Austin's live music scene, he assures University of Houston-Clear Lake's Bayou Theater-goers a foot-stomping, hip-swiveling good time at their performance on Oct. 27 at 7:30 p.m.
"If you're not comfortable dancing, this is a great show to come to," Russell said. "All eyes will be on the stage, watching our Tijuana Trainwreck Horns and our backup singers, the Shiny Soul Sisters," he said. "It's a great stage show – very visual as well as musical. And there's no bad dancing in my book."
Shinyribs' style, Russell said, is a "mashup of musical styles. Swamp funk is sort of a Stevie Wonder meets Jerry Reed. It's one of many styles we play. It's one of our grooves, and I like to give them a name."
He added that the group performs mostly in regional, Gulf Coast styles that are a combination of a lot of things. "We are country, rock and R&B," he said. "And there's another style called 'tickle.' That's because I am a wacky writer and I write the same way I play music. It's spontaneous and it leans toward jazz and improvisation. It's 'ticklish' music. It makes you laugh."
And that's the main thing he hopes to deliver to his audience. "We are a joyful, happy, playful musical experience and 'tickle' is a great word for it. I'm generally laughing," he said.
The band also plays covers that no one would expect. "We turn songs inside out, we make them fit our element," he said. "For example, David Bowie has a song called 'Golden Years' that is hard to cover. "We used the groove from George Benson's 'On Broadway' and you won't know till you're halfway through the song and you hear the hook. That's when you go, 'Oh! I know that song!' We like rearranging songs and twisting them."
Russell particularly enjoys playing New Orleans rhythm and blues as well as R&B from the 90s. "I love those years," he said. "We'll take 'Waterfall' from TLC and put it with 'Pony' by Ginuwine. You'll hear songs within songs. We thread them together. It's a lot of fun."
His original songs reflect his love of poetry and surrealist imagery. "I like to prepare people to open their minds to a more poetic way of thinking about our song lyrics," he said. "That's where the word 'tickle' can appear anytime. It makes you smile."
In between the spontaneity and improvisation, Russell said, "there's lots of kneeling. And hip. I think I need a bobble-hip in my own likeness to put on the dashboard of the car, like a hula dancer."
To reserve your tickets to Shinyribs, or for more information about the Bayou Theater's 2018-19 season, visit www.uhcl.edu/bayou-theater.