Award-winning Latin pop singer hopes to move hearts and hips at Bayou Theater
October 12, 2018 | Katherine Adams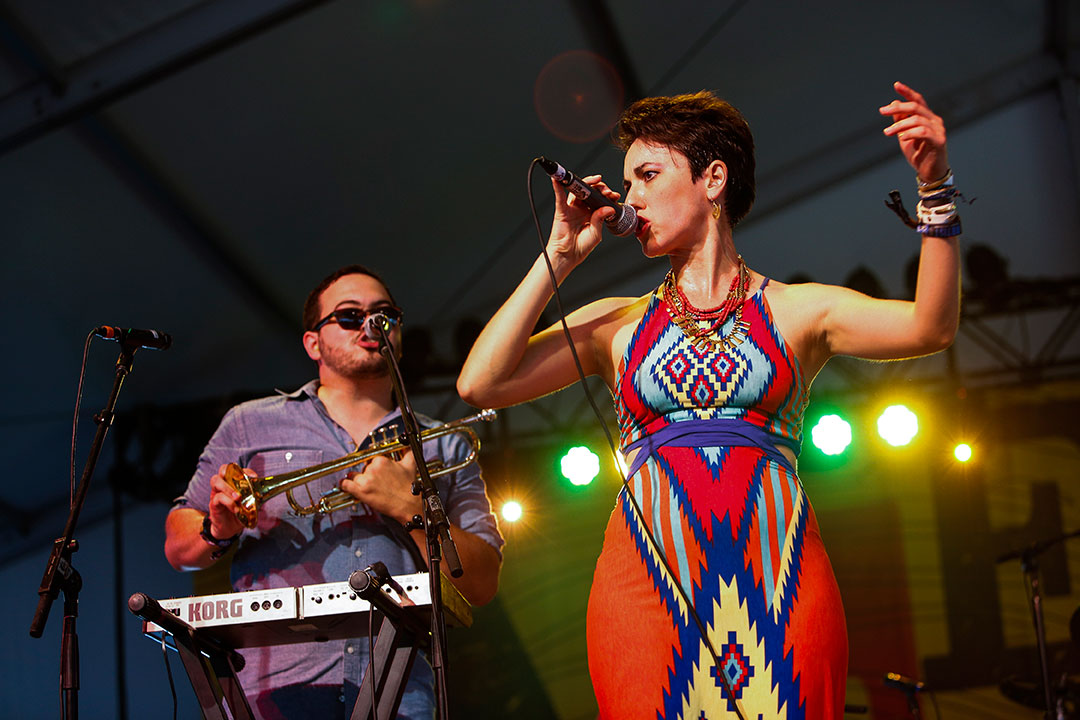 For Gina Chavez, the music she writes and performs comes from a very personal place. The award-winning, Austin-based bilingual Latin pop singer says she hopes to take her audience on a musical journey through her experiences working in El Salvador and at home when she takes the stage at University of Houston-Clear Lake's Bayou Theater on Saturday, Nov. 10 at 7:30 p.m.
"I'm excited to perform my newest album, 'Lightbeam,' which is about the fact that after 12 years together, my wife Jodi Granado and I were able to get married last year," Chavez said. "It's a record about love, faith, and what it means to step out of the shadows."
Chavez said that much of her musical inspiration came from a volunteer trip she and her wife took to El Salvador back in 2010. "We worked for eight months at an all-girls' school teaching English," she said. "We lived at the school, ate breakfast and did chores together. They became our sisters."
She said that while in college at University of Texas at Austin, she had learned that gang violence was a serious problem in El Salvador. "That's why I felt connected to that country before we went," she said. "There's a song that I wrote entitled 'Siete-D,' which was the bus we took into San Salvador. In El Salvador," she explained, "there are no bus stops. You just stop somewhere on the street and the bus comes and picks you up."
One day, she said, the owners of the 7-D bus route got so upset that their bus drivers were constantly being murdered by gang members that they shut the route down. "I wrote the song because I wanted to show this is these women's reality," Chavez said. "That song has a heavy Latin hip-hop rhythm, and it's a tribute to the Salvadoran people."
Chavez filmed that song's video on a 7-D bus, and drivers of that route
play the song on their bus radios. "Our music speaks to immigration and homelessness and love," she said. "My message is broad. But at the end of the day, I just want to bring people together."
Born and raised in Austin, Chavez said that although she was half-Mexican, she was not exposed to much Latin culture. "I discovered my Latin roots through music," she said. "I love the rhythms and the patterns and beats."
She said she doesn't want people in the audience to stay in their seats. "There's a lot of audience interaction at my shows," she said. "Every show is new. I hope my music is thought provoking. I'd like to move hearts and hips."
She has made such an impact on the Austin music scene that in 2015, Austin Mayor Steve Adler made April 2 officially Gina Chavez Day.
For tickets to Gina Chavez's performance or for more information about the Bayou Theater at UH-Clear Lake, visit www.uhcl.edu/bayou-theater.