Groundbreaking set June 12 for UHCL residence hall
June 6, 2018 | Jim Townsend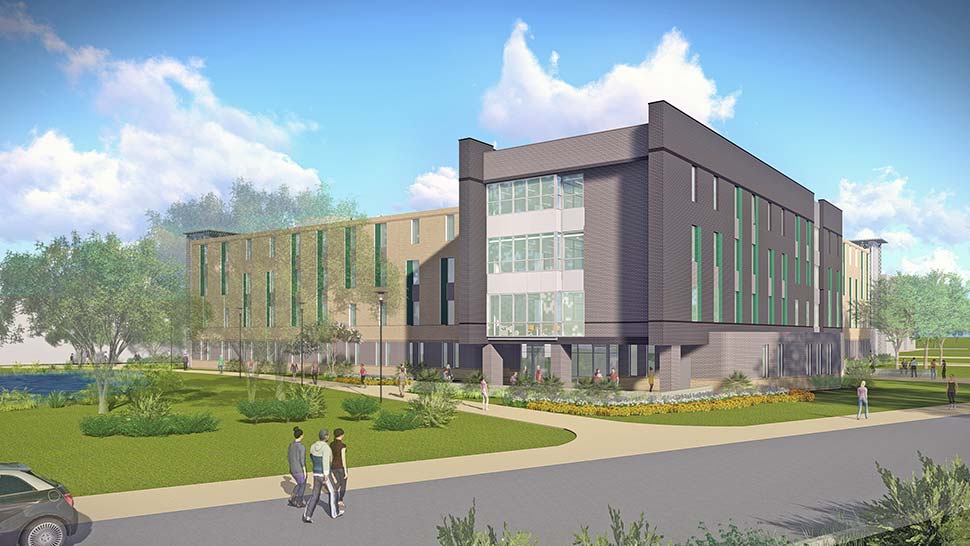 University of Houston-Clear Lake will host a groundbreaking ceremony for a 294-bed residence hall at 9 a.m. on Tuesday, June 12, 2700 Bay Area Blvd., Houston. The public is invited. The residence hall is scheduled to open for the fall 2019 semester.
To reach the groundbreaking site, take Bay Area Boulevard to Middlebrook Drive. Enter the campus at Entrance 3 and park in student parking lot.
The residence hall will be centrally located near the university's Student Center and Classroom Building and the new Recreation and Wellness Center, which is set to open this fall.
The hall will feature suites in three configurations: two single rooms with a shared bathroom; two double rooms with a shared bathroom; or a single room with private bathroom. Other amenities include:
Full-service front desk.
Laundry facilities on each floor.
Grand Community Lounge.
Study lounges on each floor.
Community kitchen.
Wi-Fi and wired Ethernet.
Computer kiosks.
Student mailboxes in hall.
Electronic card access to the building.
Outside patio area.
Live-in professional staff member.
The hall will complement the privately run University Forest Apartments, which are located on campus off Bay Area Boulevard. About 280 students lease one- to four-bedroom apartments there.
Learn more about new on-campus housing.